Design according to your branding
In our website development, we always make sure that it is easy to use. Your website can be delivered in Joomla, Drupal, or (custom) CMS of your choice. In this, we will integrate your CMS with the right plug-ins so you can realize your goals and easily manage your own website.
Easy management system (CMS)
Depending on your wishes, the cheapest option is to let us develop your website with a custom CMS tailored to your specific needs.
Modules & functionalities
There is more to the development of a professional website that just the integration of a CMS and the creation of a conversion oriented design. In order to interact (communicate, sell, convince) with your visitors, the website can be integrated with chat or ticket services, a payment system, or any other module that facilitates visitor interaction.
SEO & visibility
After the website is delivered, you will always receive additional support. Depending on the type of website, you will get instructions on how to use your CMS, how to work with the links and tools that are integrated, and about the other services that your website relies on.
WooCommerce - E-commerce from WordPress
WooCommerce is one of the most famous and most customizable e-commerce platforms of this day. With thousands of WooCommerce extensions available, it is considered the one of the best options for e-commerce website development. Since WooCommerce is built and based on WordPress, one of its main advantages is the usability for it is very simple and already familiar to most users.
WooCommerce is a good option for most small to medium webshops that don't require too many custom configurations.
Customize your E-Commerce store with official extensions for WooCommerce.
One of the advantages of an open-source e-commerce framework like WooCommerce is the wide availability of pre-made extensions on the market. By using extensions, such as integrations for social media, stock management, payment methods, analytics, and shipping methods, you can easily manage your webshop and increase its usability.
Extensions are usually developed by the framework maintenance team, but sometimes also by other organisations. Many extensions are available for free, but some will cost you money. No matter the price, it is important that you always make sure that the extension comes from a trustworthy organization. Installing low-level extensions or plugins can put your webshop at risk for hackers or other attacks from outside.
Payment system integration
There's more to the development of a professional webshop than a Woocommerce, Shopify or custom CMS integration and the creation of a conversion oriented design. If visitors go through all of the shopping steps, they have to be able to make the actual purchase of course. This is where the integration of a payment system comes into play. In addition to facilitating direct online payments, a well-functioning payment system also fosters customer trust.
Mollie
The Dutch payment system Mollie is reliable and easy to use, and hence helps enterprises of all kinds of formats to operate more efficiently. In short, Mollie is simple, safe, and contains various pre-programmed solutions that allow webshops to start selling right away.
Stripe
Stripe builds some of the most powerful and flexible tools for internet commerce. Whether you're creating a subscription service, an on-demand marketplace, an e-commerce store, or a crowdfunding platform, the Stripe payment system can do it all. Internationally oriented, stripe is geared toward developers and can be personalized and optimized for any IT solution.
Looking for online success?
We are curious to hear your story! What does your organization do, and what is your mission?
We love to look at how you can achieve (even more) online success, and how we can help you realise this.
Should I use a template or not for my WooCommerce website?
One of the main questions you might be asking yourself is: why wouldn't I save on my designing phase and just choose one of those thousands of templates? This is surely an option, but you always have to consider what exactly it is that you want, and what your goals are in 1 year or in 5 years.
By using a template you can save costs, which allows you to launch a webshop in no time that still looks okay. However, if you do not want to give a feeling of an ordinary webshop, opt for a custom design that gives your webshop an individual touch, for this will definitely be noticed by your (potential) customers and hence lead to more conversions.
Conversion oriented webshop
Let Rocket Minds develop your conversion oriented webshop.
Ordering your own webshop is about getting results. If you open your own webshop, this is of course to generate sales. The product impressions are important, but it is far more important that your visitors actually make their purchases on your webshop. In order to achieve this, it is essential that visitors are subtly guided through the online shopping space, that they can ask questions, and that they are eventually stimulated to make a purchase. Succeeding in this process is where conversion oriented web design comes into play.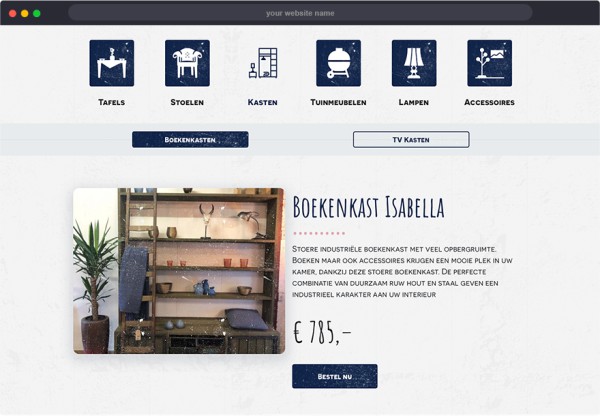 Converting website visitors into customers
After visitors have entered your website, they have to be converted into leads or customers of course. That's why Rocket Minds always creates conversion oriented web designs. These are oriented toward a clear goal and contain tactical implementations of buttons, content, and other functionalities.
Visibility in Google
In order to generate revenue, your website first needs to get relevant visitors. In this, your website's visibility in Google is essential. That's why at Rocket Minds we always deliver 100% technically SEO optimized websites and offer elaborate SEO advice before the website goes live.
Website optimization
There are many facets to optimizing a website: technical optimization, conversion oriented designing, and of course Search Engine Optimization (SEO) and Search Engine Advertising (SEA). How do we at Rocket Minds go about this and how do we lead your website or webshop to success? Click underneath to read all about it!.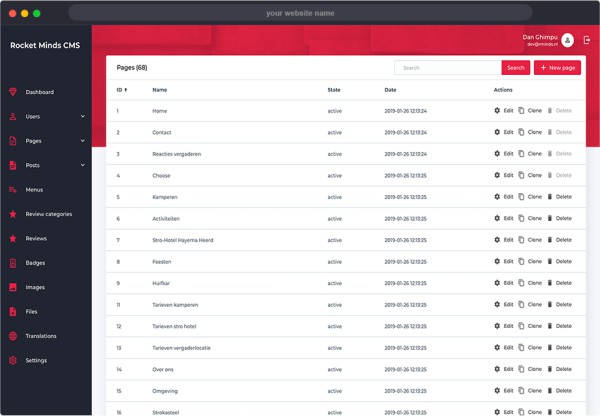 SEO and SEA
Search engine marketing is a process that progresses slowly. However, when you choose to involve our SEO and SEA specialists, then you can be sure that you will reap the benefits of increased website traffic over time.
Google AdWords
Google's search results are not just indexed by algorithms, but also paid for as online ads. Google AdWords – also known as Search Engine Advertising (SEA) – allows you to directly attract visitors from Google's first page without having a completely optimized website.
More conversions
After you attract website visitors, these have to be converted to leads, clients or customers. At Rocket Minds we create conversion oriented designs: geared towards a clear goal, with tactical implementations of Call to Actions, buttons, and other functionalities.
Content optimization
When the technical optimization is done, we can focus us on the other element of SEO, namely content optimization. In this, we analyze keywords to optimize the content (texts, titles, images, videos) of your website.
Concepting
We start with an elaborate intake in order to draft a functional plan. This plan we will then translate into wireframes and a graphic design.
Target Audience
Goal & objectives
Concept & wireframe
Description website functionalities
Graphic design
Design approval
Development
After the structure and the design is clear, our web developers will implement the design into the CMS.
Front-end development
Development functionalities
Speed optimization
Testing
Approval
Maintenance
We will give you instructions on how to use the CMS so you can maintain the website by yourself and expand it whenever you feel like. In addition, we will integrate your website with Google analytics and Search Console for you.
CMS instructions & manual
Google Analytics integration
Google Console integration
Dashboard Report
Free consultation
Book an introduction meeting