What is a CRM?
More than just a storage of client details, a CRM can track basically anything that is important for the organization's undertakings: interaction and activity logbooks, the services that the organization has provided, official documents such as quotations and contracts, reminders, imports and exports goods, suppliers, stock management, marketing tools, and it can even be connected to the software that an organization already uses.
There are many ready-made systems available on the market, but at Rocket Minds we specialize in customized CRM systems; systems that require just that little bit extra and which differentiate your organization from others. We make sure that these systems connect seamlessly with all the tools and other systems that your organization already uses.
Your custom CRM
CRM stands for Customer Relationship Management. A CRM system is used to save and process all customer/client data. The CRM system organizes and optimizes the relation between customers/clients and the organization, focussed on contact moments. This data will be centralized, which allows employees to easily access all the relevant information, whether it's to check a phone call or an e-mail, to receive birthday pop-ups, to highlight a sales opportunity, or to send appointment reminders. In short, a CRM system strengthens existing and potential customer/client relations, reveals opportunities, creates efficiency within the organization, and provides an overview of the leads.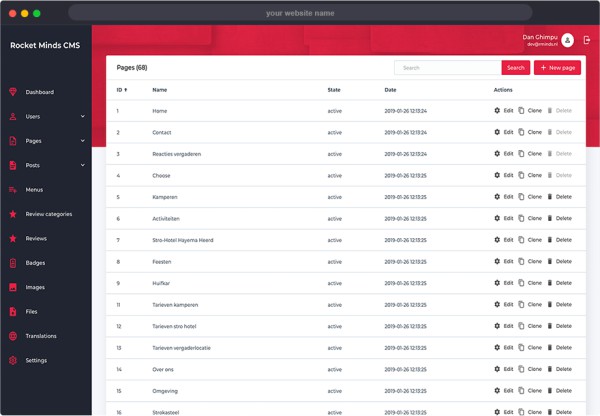 Contacts
Manage your contacts in one central place by integrating all your communication channels (website, subscription tools, customer accounts, etc.) into your own custom CRM.
Sales
Improve oversight of your sales and running projects. With your own CRM, you will never forget tasks or issues anymore.
Leads
Centralize all your leads in a single location and use this with your team to manage the sales process more effectively.
Workflow improvement
With a CRM, an organization can easily track its leads, plan the follow-ups, and pause the projects that are on-hold. Also, import/export companies can use a CRM to keep track of their stock and make sure that suppliers are contacted at the right time. This way, organizations can keep an ongoing conversation with their relations and prevent them from having to deal with different contact persons or redundant information. Furthermore, a CRM makes it easier for employees to cover each other's projects (e.g. due to a pregnancy, holiday, or illness) and for new employees to start their job.
Since a CRM tracks everything that happens within an organization, it gives managers the perfect tool to overview their organization's affairs. By automating this overview, managers only have to study their CRM dashboard in order to determine their organization's direction.
Subsequently, managers can use their CRM to assign their employees to specific projects, which does not only save a lot of bureaucratic (paper)work, but also prevents accidental task repetition and potential miscommunication, both internally and externally.
Looking for online success?
We are curious to hear your story! What does your organization do, and what is your mission?
We love to look at how you can achieve (even more) online success, and how we can help you realise this.
Integrations and APIs
An important part of functional CRMs are the integrations with all online resources that your organization uses. The platform itself, then, functions as a system that collects data from all these resources (including manually entered data), and analyzes it to present it to you in an orderly manner.
In order to automate your company processes, at Rocket Minds we can connect your custom CRM or ERP with any online service that offers an API. Examples include: Toggl, Everhour, Jira, Trello, Wunderlist, Github, any other sales or communications channel, and finance and cloud services. Other than requiring an API connection, there are no limitations to this.
CRM and ERP combined in your unique system
Do you need, for example, not just customer details centralized, but also details about suppliers and employees? That's possible. Even a system that combines a CRM and ERP together is within reach! In addition to CRM en ERP systems, at Rocket Minds we develop planning software, invoice software, client portals, mobile applications, hour registration tools, management portals, and many more.
Open-source versus custom CRM
Open-source CRMs, such as TeamLeader, ZohoCRM, or Monday.com, have a lot of basic integrations that fit in most cases, but are unable to integrate internal or third-party software created for your organization. A custom CRM, on the other hand, can be developed to integrate whatever software that is needed. Our CRM at Rocket Minds, for example, is integrated with the repositories that store the files for each project, a time tracker for employee hours worked per project, and the calendar, e-mail, and finance software that we use.
Of course you could just use Microsoft Excel or an equivalent program to track and manage your organization's information streams, but these always bring security risks and problems such as synchronization between employees and dependencies on devices and updates. Thus, if you feel that your organization could benefit from its own CRM system, contact us a free introduction meeting. We will study the possibilities for your organization and explain which software we can integrate to develop a CRM system that is completely customized to your organization's needs.