What is an online platform? Online service with endless possibilities
Online platform, the term gets thrown around more and more, but what exactly is it? In short, it is an online software that generates value by facilitating interaction between different parties. The applications of an online platform are endless. It is not just about offering different products (e.g. Bol.com and Amazon, which cleverly bundle different suppliers together), but could also be about offering a platform for exchanging services (Uber) or facilitating payments (Tikkie).
Link websites with your organisation processes and systems
Do you already have an organization, but would you like to streamline it via online integrations? We create accessible websites in which we can develop links between your web application and your systems. We implement professional integrations, Software as a Service (SaaS), products with CRM systems, financial packages and applications, administrative systems, and any other custom software. In this, we always take safety, privacy (GDPR) and (i) standards into account, and we can arrange secured access via SSO, two-factor authentication or DigiD. In short, we deliver custom development without licenses and complete integrations of your current systems and work processes. Everything will be tailored toward your wishes and designed with an intuitive user interface (UI) and user experience (UX).
Your custom CRM
CRM stands for Customer Relationship Management. A CRM system is used to save and process all customer/client data. The CRM system organizes and optimizes the relation between customers/clients and the organization, focussed on contact moments. This data will be centralized, which allows employees to easily access all the relevant information, whether it's to check a phone call or an e-mail, to receive birthday pop-ups, to highlight a sales opportunity, or to send appointment reminders. In short, a CRM system strengthens existing and potential customer/client relations, reveals opportunities, creates efficiency within the organization, and provides an overview of the leads.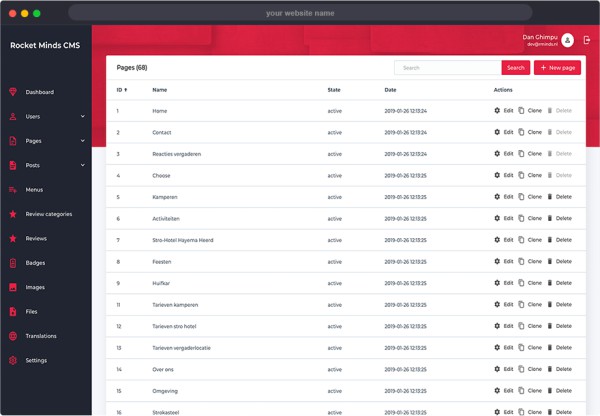 Contacts
Manage your contacts in one central place by integrating all your communication channels (website, subscription tools, customer accounts, etc.) into your own custom CRM.
Sales
Improve oversight of your sales and running projects. With your own CRM, you will never forget tasks or issues anymore.
Leads
Centralize all your leads in a single location and use this with your team to manage the sales process more effectively.
Rocket Minds as your Startup development partner
Considering the development of the IT industry, many people try to turn their hobby into an application or online platform business. This is a sensible approach, for these days you can make money out of almost anything, so it only makes sense to try and base your idea on your passion. What is important to keep in mind, however, is how you present your idea to the public. At Rocket Minds we love to assist you in all the challenging aspects of a Startup: online consultancy, (web) design, concepting, and development. So, if you have an idea that you would like to realize, just get in touch so we can help you on your way!
Looking for online success?
We are curious to hear your story! What does your organization do, and what is your mission?
We love to look at how you can achieve (even more) online success, and how we can help you realise this.
The main advantages of web applications are:
The main advantages of web applications are:

Complete elimination of all compatibility issues because all users will use the same web-version. Hence, there are no user-related updates required because all updates are performed on the server.

There are no spacing limitations, because web applications are not installed on the user's hardware. The only information that might be stored on the user's hardware are cookies and cache files.

Increased safety against hackers and illegal cracks: The pirating of web applications is far more complicated than self-hosted applications.

Cost reduction for both the owner and the user: A web app requires little maintenance and support and has low hardware requirements of the user's device.
Ready to work with us?
All projects secured by NDA
Thank you for your request
We will keep you informed about our offers and interesting developments in IT design and development
What's Next?
Discuss your idea under an NDA
We review your concept and extrapolate a feasible solution
We provide an estimated cost and time to deliver the product
Not sure about your project details yet?
If you're not sure about the details of your project yet, just send us an email or give us a call.
If you're not sure about the details of your project yet, just send us an email or give us a call. +31 (0)6 156 447 86, If you're not sure about the details of your project yet, just send us an email or give us a call. info@rminds.nl or schedule an appointment.