Do I need an ERP?
Many entrepreneurs still work with Excel or an equivalent program. In this, they process various aspects of the company affairs and revenue. However, these programs often comes with various problems, such as security and synchronization issues that can lead a lack of oversight or even loss of data.
With your own ERP system, you can make your data processing far more efficient and get clear oversight of the current (financial) status of your company. In this, you can have your system perform various analyses, which allows your management to make educated organizational decisions.
At Rocket Minds we specialize in making ERP systems completely tailored to an organization's needs. In this, we also offer long-term services so we can continue to expand and improve your ERP system into a comprehensive platform.
Your custom ERP
ERP stands for Enterprise Resource Planning. An ERP system contains all processes within an organisation, such as relations, appointments, customers and/or clients, leads, invoices, quotations, and plannings. All administrative, financial, and logistical organisation processes come together in one single management system. The final goal of an ERP system is to create a clear overview and hence save costs. Since an ERP system is built modular, organizations can completely tailor them to their needs. An ERP system analyses the information of all the integrated software in order to assess the most efficient way to work. This way, an ERP aids efficiency, flexibility, and adaptability of an organization.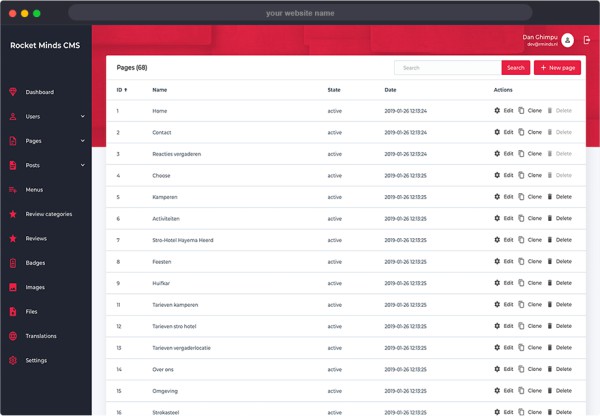 Invoices
ERPs can automate the creation of invoices, provide extensive and detailed overviews of the revenue that clients are bringing, and offer statistics and timeframe perspectives.
Suppliers
Manage your expenses and subscriptions in one single place. Assess the value that each supplier brings you and the costs that they incur. Adjust your organization accordingly and save money by investing in a comprehensive ERP system.
Inventory
Manage your products and services inventory, together with the corresponding statistics and history. With an ERP system, you will always have an up to date overview without the usual synchronization issues.
Workflow improvement
With an ERP, your organization can easily track its leads, plan the follow-ups, and pause the projects that are on-hold. Also, import/export companies can use an ERP to keep track of their stock and make sure that suppliers are contacted at the right time. This way, you can keep an ongoing conversation with your relations and prevent them from having to deal with different contact persons or redundant information. Furthermore, an ERP makes it easier for employees to cover each other's projects (e.g. due to a pregnancy, holiday, or illness) and for new employees to start their job.
Since an ERP tracks everything that happens within an organization, it gives managers the perfect tool to overview their organization's affairs. By automating this overview, managers only have to study their ERP dashboard in order to determine their organization's direction.
Subsequently, managers can use their ERP to assign their employees to specific projects, which does not only save a lot of bureaucratic (paper)work, but also prevents accidental task repetition and potential miscommunication, both internally and externally.
Looking for online success?
We are curious to hear your story! What does your organization do, and what is your mission?
We love to look at how you can achieve (even more) online success, and how we can help you realise this.
Integrations and APIs
An important part of functional ERPs are the integrations with all online resources that your organization uses. The platform itself, then, functions as a system that collects data from all these resources (including manually entered data), and analyzes it to present it to you in an orderly manner.
In order to automate your company processes, at Rocket Minds we can connect your custom ERP with any online service that offers an API. Examples include: Toggl, Everhour, Jira, Trello, Wunderlist, Github, any other sales or communications channel, and finance and cloud services. Other than requiring an API connection, there are no limitations to this.
CRM and ERP combined in a unique system
Do you need, for example, not just customer details centralized, but also details about suppliers and employees? That's possible. Even a system that combines a CRM and ERP together is within reach! In addition to CRM en ERP systems, at Rocket Minds we develop planning software, invoice software, client portals, mobile applications, hour registration tools, management portals, and many more.
Open-source versus Custom
Open-source systems, such as TeamLeader, ZohoCRM, or Monday.com, have a lot of basic integrations that fit in most cases, but are unable to integrate internal or third-party software created for your organization. A custom system, on the other hand, can be developed to integrate whatever software that is needed. Our CRM at Rocket Minds, for example, is integrated with the repositories that store the files for each project, a time tracker for employee hours worked per project, and the calendar, e-mail, and finance software that we use.
Thus, if you feel that your organization could benefit from its own ERP system, contact us a free introduction meeting. We will study the possibilities for your organization and explain which software we can integrate to develop an ERP system that is completely customized to your organization's needs.
Ready to work with us?
All projects secured by NDA
Thank you for your request
We will keep you informed about our offers and interesting developments in IT design and development
What's Next?
Discuss your idea under an NDA
We review your concept and extrapolate a feasible solution
We provide an estimated cost and time to deliver the product
Not sure about your project details yet?
If you're not sure about the details of your project yet, just send us an email or give us a call.
If you're not sure about the details of your project yet, just send us an email or give us a call. +31 (0)6 156 447 86, If you're not sure about the details of your project yet, just send us an email or give us a call. info@rminds.nl or schedule an appointment.