Written by Merlijn Broersma 03 May 2017
Content and photos help you realize your website goals and communicate the vision of your organization. In addition, they can also aid the Google ranking (SEO) of your website, and therefore it is always best to let a copywriter write the texts for your website. These people help to create unique texts, which will help to index your website in search engines. With attractive texts and a high search engine ranking, your sales will eventually go up.
You can hire your own copywriter, or you can make use of the Rocket Minds copywriting service.
Before our copywriter starts with the content for your website, he will need several meetings with you in order to understand the ideology of your company and what your business goals are. Only then, he can ensure that your organization is effectively relayed in text.
Our copywriter can also come up with a slogan for you or write texts for other promotional materials. In this, he can even work within the marketing department of your company.
Remember!
Quality design requires quality content. Good quality content will also improve your Google Ranking!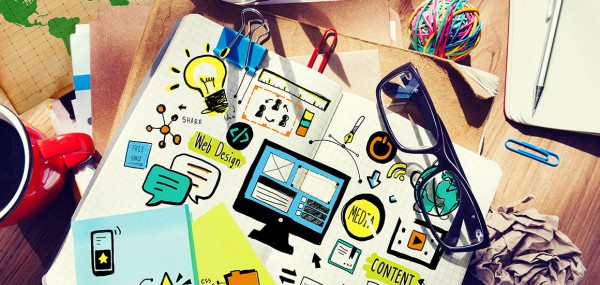 1

Hire a professional photographer in order to have professional photos of your own products / offices / workspaces, etc.

2

Buy licensed photos on stock-markets, such as depositphotos.com or shutterstock.com
We strongly advice you not to use photos made with your phone or a simple camera, because their lack of quality can damage the overall look of the design concept of your website.
Content optimization
Content optimization is an important aspect of the SEO (Search Engine Optimization) of your website. It is the longest lasting aspect, for in order to keep your website relevant, you have to keep adding new optimized content to your website. Google always checks the speed and other technical aspects of your website, but for Google - and for your visitors of course - it is also important to find interesting and relevant content on your website. Content includes text and titles, but also images and other media files, which should all have a certain description, frequency of keywords, size, etc. in order to be optimized for Google.
Read more