Written by Merlijn Broersma 19 March 2017
Many people would like to have their own business, but a lack of money or knowledge often hinders them from actually realizing it.
Opening a webshop is a great way to learn the basics of trading and negotiating and is an accessible first step to successful entrepreneurship. Starting a webshop does not require a large investment, but it does hold potential to generate great profits. Whether a webshop will be successful primarily depends on the marketing approach, followed by the business idea and concept, and the various products for sale. 
In this, one of the most affordable options for doing business on the internet is to simply register as an individual entrepreneur. All you need is a good website – an online store – and probably an office and/or a warehouse. You can even leave out the latter and start without a warehouse or any stock at all and simply work according to the drop shipping model.
What is most important for a webshop design?
In the development of a webshop, it is important to spend the utmost attention to the user interface (UI). This will determine the ease of navigation for your clients and, hence, whether they can easily find and order their desired products. A pleasant experience on your webshop will be connected to your brand, and aids in getting your customers to buy your products, come back for more, and tell others about it.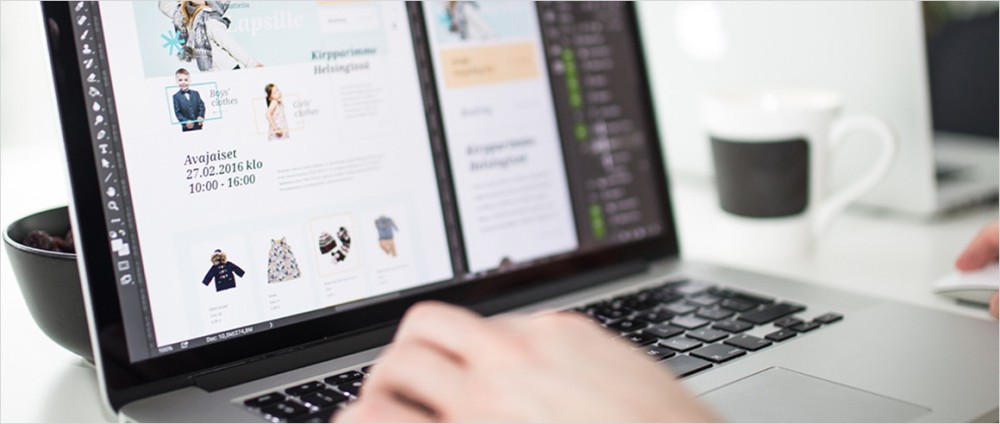 What Information do I have to display on my webshop?
All the important information on your webshop should be displayed clearly: contact information should be prominently featured, the "search" function should be found easily, and all webpages should open quickly. Make sure to prevent overloading the website with unclear or unnecessary content. Limit yourself to displaying good quality photos, accurate product descriptions, and don't forget to leave space for user feedback or comments and product reviews.
Furthermore, the categorization of your products and search system plays an important role in the user experience (UX). In order to prevent potential confusion, your products should be organized and divided into specific (sub-)categories. Another feature to keep in mind is your customer care and support service. The easiest way to start is to provide your customers with contact information such as a telephone number or email address. However, in due time – as your business grows – consider implementing a ticket support system or even an online chat. This will foster customer trust, for your webshop will already have a safety mechanism in place in case anything goes wrong.
From webshop development to webshop promotion
The development and the promotion of a webshop mutually depend on one other. Therefore, it is often better to get both services from the same company. This way you only have to work with one team, which already knows your website thoroughly and understands the promotional requirements that it needs.
Do you want to learn more about webshops? Read our article on: The Webshop from a Customer Perspective
Design according to your branding
In our website development, we always make sure that it is easy to use. Your website can be delivered in Joomla, Drupal, or (custom) CMS of your choice. In this, we will integrate your CMS with the right plug-ins so you can realize your goals and easily manage your own website.
Easy management system (CMS)
Depending on your wishes, the cheapest option is to let us develop your website with a custom CMS tailored to your specific needs.
Modules & functionalities
There is more to the development of a professional website that just the integration of a CMS and the creation of a conversion oriented design. In order to interact (communicate, sell, convince) with your visitors, the website can be integrated with chat or ticket services, a payment system, or any other module that facilitates visitor interaction.
SEO & visibility
After the website is delivered, you will always receive additional support. Depending on the type of website, you will get instructions on how to use your CMS, how to work with the links and tools that are integrated, and about the other services that your website relies on.
1

Pre-project work

Before we start our cooperation, we always take some time to get to know each other. During this process, we will identify the goals of the project and outline the implementation phases together.

Client meeting: Your project will be assigned a personal manager with whom you will meet at a location of your preference. At the meeting, you can ask any question you want and tell us how you would like to see the project executed. In addition, you can see our portfolio so you can get a better idea of the possibilities.

Commercial offer: After our initial communication, we will draft a personalized commercial offer. This offer will specify the various stages of work, the respective terms, and the total project budget.

Signing of the contract: After you have read our offer and given your feedback for alterations, we will sign a contract together. Subsequently, all the work will be carried out according to this contract.

2

Technical proposition, prototyping, and designing

The creation of a webshop begins with a technical proposition, followed by the structure development and several prototypes.

Technical proposition: for the project to meet your requirements, we first need to complete a technical proposition. You will compose this proposition together with your project manager. In this, you will determine the various sections and product categories of your online store and the various functions you want the website to have.

Development of the prototype: After we receive the technical proposition from you, we will develop a prototype of the upcoming webshop. At this stage, we will draft a general picture so we can already have an idea of what the finalized project will look like.

Design: This is one of the most important and interesting stages where the designer will draw all the elements of the user interface (UI).

3

Full-stack development and integration

Simply put, this stage turns the layout pictures into "live" elements that can be displayed and used in a web browser.

Layout: The layout designer divides the layouts into separate elements and divides them over static html pages. In order to do this, we use modern layout tools such as: CSS3, HTML5, Less/Sass, Gulp, Javascript, and AngularJS.

CMS configuration: The Content Management System (CMS) will be installed and configured on the hosting site. You can choose to use a custom developed CMS, or one of the open-source ones, such as Magento, Shopify or Woocommerce.

Programming of additional functions: At this stage, all the additional functions that are not standard in the CMS will be developed and integrated. This includes functions such as reserving and ordering products, calculating total costs, variations or suggestions of products, ticket support, and a chat service.

4

Content, testing and launching

Preparing content and completing the website: We fill the website with the texts, photos, product samples, and descriptions that you've prepared. At this stage, unique content is a prerequisite in order to promote the webshop effectively.

Importing products (if required).

Testing: Before your website is put into operation, we have to test its functionality together. At this stage, any errors that slipped in the website can be identified and corrected.

Launch of the website: This is practically the "birth certificate" of your webshop; it will get its official name and will be accessible to your first customers and/or clients.

5

Support and maintenance

Managing a growing webshop requires regular maintenance work, never underestimate the importance of this. You can read more about website maintenance here.

6

Marketing and promotion

When your webshop is online, you need to help people find it. In order to do this, you should consider including both online and offline advertising strategies. We can help you with managing an effective marketing campaign. Click here to get in touch with us.